With more than 30 years of landscape design services and installation experience, Haegele Nursery & Garden Center is ready to help you transform your property into the pinnacle of beauty! We take pride in creating lush, verdant landscapes with beautifully integrated hardscaping, features and greenery. Our garden design services in Saint Louis, Arnold, Mehlville, and Oakville, MO unlock the tremendous potential of your property and raise the curb appeal of your home!
We offer a full range of landscape design services in Saint Louis, MO, providing the expertise you need to feel confident in a totally custom landscape installation. With an established nursery behind us and decades of experience, we're able to offer you all of the following: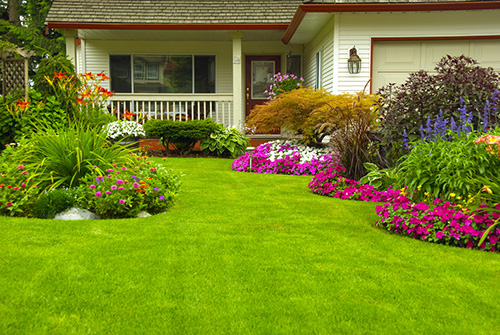 Landscaping:

Come to us for complete landscaping, from design, to installation, to maintenance and beyond. Our mission is to raise the standard for beauty and prestige on your property with alluring landscaping that's value-additive and appealing.

Hardscaping:

It's amazing what pavers and a little concrete can do to your landscape! From patios to retaining walls, pathways to fire pits and beyond, we know the power of a well-crafted hardscape. Let us plan and install hardscaping alongside your landscape's greenery, for a complete property aesthetic that's truly one-of-a-kind.

Outdoor structures:

Your landscape is more than beautiful—it's an extension of your livable property. Adding a gazebo, trellis, decking, pergola or other outdoor structure is a great way to maximize this space by adding comfort. We can integrate these structures right into your greater landscape aesthetic for a truly wonderful addition to your property.

Memorials:

For commercial properties and residential landscapes alike, we're able to create and install memorial plaques and benches. These additions are more than just a beautiful addition to the landscape—they're the perfect way to immortalize someone's legacy.

Statues and fountains:

For a truly distinguished landscape feature, consider a statue or fountain. These eye-catching features can define a landscape and uplift our garden design services to new heights, offering prestige, ambiance and a stoic touch.