As an established provider of greenery, Haegele Nursery & Garden Center is a complete gardener supply store that offers customers both retail and wholesale plants in Saint Louis, Arnold, Mehlville, and Oakville, MO. Our selection includes well-cared-for trees, shrubs, perennials and grasses, in numerous varieties.
In addition to all of these different foliage options, we also carry seasonal options:
Christmas Trees for Sale in the Winter

Vegetables, Fruit Trees and Perennials in the spring

Mums in the fall
We offer distribution of all our products to landscapers and look forward to working with you.
Depending on your vision for your landscape, we'll make sure you're taking home the right retail plants and garden supplies to cultivate something beautiful.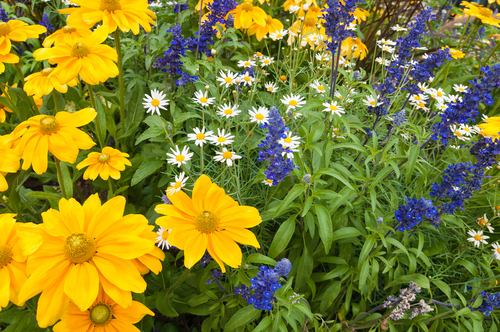 Trees:

Whether you're looking at putting in a couple of shade trees on your property or want ornamental options to liven up the landscape, we've got plenty of options to choose from. We have larger oaks and maples, as well as smaller spruces, Japanese maples, weeping cherry trees and more! We've also got a selection of flowering trees that includes white dogwood, Cleveland pear, whitebuds and redbuds, among others.

Shrubs:

Our selection of retail plants in Saint Louis, MO includes both flowering and non-flowering shrubs, in both ground-level and bush capacities. Come and see our selections of spirea, viburnum, ninebark, roses and many more, as well as options like winterberry, dogwood and barberry. We also have evergreen varietals that include rhododendron, holly, lily of the valley and many more.

Perennials:

We've got a tremendous selection of beautiful perennials as part of our selection of wholesale plants to help your garden bloom vibrantly each and every year! Choose from favorites that include wisteria, peonies, daylilies, geraniums, foxglove, hostas, creeping jenny and many, many more varieties. We've got all different colors and types for you to complete your garden with.

Grasses:

Our selection of grasses has numerous varieties depending on the aesthetic of your landscape. Come to us for options like Japanese silver, maiden grass, zebra grass, pampas grass and many more.
We're your destination for greenery!
Whether you're looking for a few perennials to add life and color to your garden, or you're completely revamping your landscape with trees, shrubs and grasses, our gardener supply store will help you find the right retail plants and garden supplies. Visit Haegele Nursery & Garden Center today or call 314-894-8692 if you're looking for something in particular, be it plants, rock and soil delivery, or landscape design services.